HAPPYnew year!
Wishing you all the best in 2012!
Well, I finally did it! I bought an iPad. And all I can say is that I love it…I really do! It will be so handy when school starts in a couple of days and when I start teaching classes at the local community college. Right now, though…I'm a Pinterest addict.
I also realized that I needed a carrier. So, after a quick cruise on the interest (yes, using my iPad) I realized they are all really expensive. I eyed one from Pottery Barn that I loved…but it's $70.
I also spied this one from Restoration Hardware for $120, on sale from $150. I love the keyboard.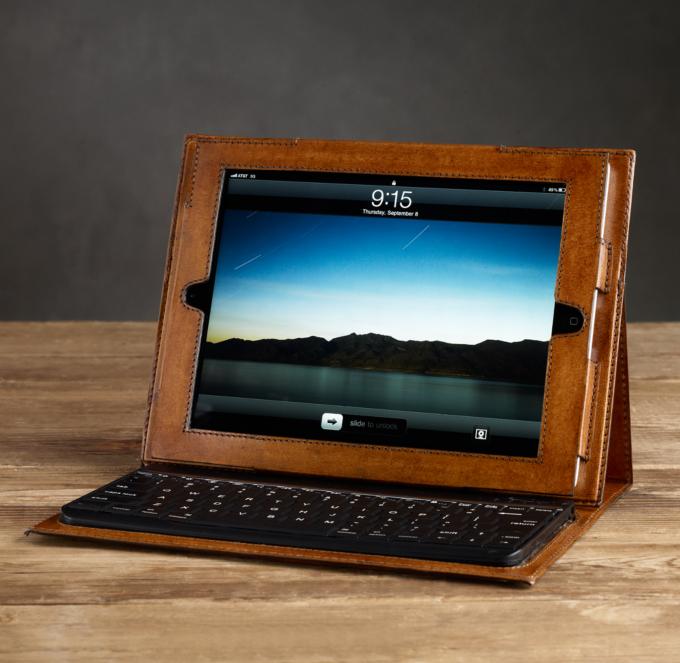 I'm sure they are worth every penny, but after splurging on my new iPad, I can't afford to spend anything extra on a cover.
So, I decided to make my own.
I bought a yard of 30% wool felt from JoAnn's. I would have bought 100%, but they didn't have a color I liked. I had a coupon for 20% off and my 1 yard of fabric ended up being about $8 a yard. I'm into gray and purple right now, so I chose a purple thread.
Perpendicular to the natural fold of the fabric, cut the 1 yard piece into thirds. One yard will make three cozies. The natural fold will be the top of the carrier and will fold down to button closed.
Using your iPad as a guide (ignore the finger prints, like I said, it's well loved) fold the top layer of felt onto your iPad. Allow about an inch of the iPad to be exposed. Then, cut about 2 inches off the bottom layer of felt. This will end up making the front pocket of your case.
Using a zigzag stich, sew the top (original fold), the top layer edge, and the bottom layer edge.
Fold the layers and pin.
Using a straight stitch, stitch up both sides of the carrier.
At the top, use a button hole foot on your sewing machine, and sew a button hole. Fold the top flap down, and mark where the button should be. Sew your button. I used an extra button I got from a pair of pants.
If you want, add a little pocket to the back. Add this before you stitch up the sides.
It's not perfect, thus this is my "artesian felt" iPad2 carrier/case. It's handy, keeps my iPad protected, and does it's job well…all for about $8. I would have extra felt for two more, but I made mistakes…and mistakes are costly.
I made this so my carrier would fit the iPad horizontally (landscape) which allows it to fit nicely in my purse You could do it any way you prefer.